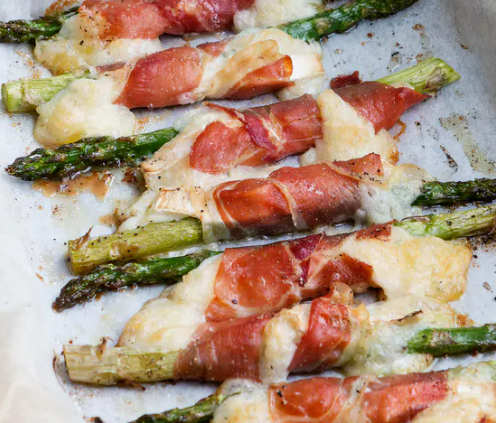 This Prosciutto-Wrapped Asparagus appitizer is not only Keto, but also delectable and mouth-watering! It is the perfect side dish for your family and friends to enjoy with dinner. The creamy goat cheese in this dish brings the salty prosciutto and crisp asparagus flavors together and delivers a smooth, satisfying finish. If you're not keen on goat cheese, however, you can replace it with cream cheese or even a dairy-free cream cheese alternative. There are lots of companies that make great tasting dairy-free cream cheese alternatives, including Daiya, Kite Hill, and Miyokos.
Asparagus is in season in the spring time, and has many needed nutrients at a low calorie count. Some of the nutrients include fiber, folate and vitamins A, C and K. Furthermore, these nutrients, plus more, are combined with antioxidants which can prevent or slow damage to cells. In conclusion, with all these health benefits, you will want to make sure you are eating more asparagus this spring! See more on asparagus health benefits here.
Print Recipe
Prosciutto-Wrapped Asparagus with Goat Cheese
Delicious Keto recipe with crisp asparagus, creamy goat cheese and salty prosciutto to create the perfect trio of flavors. 
Ingredients
12

Pieces of Green Asparagus

2

oz.

Prosciutto, in thin slices

5

oz.

Goat Cheese

1/4

tsp

Ground Black Pepper

2

tbsp

Olive Oil
Instructions
Preheat your oven to 450°F (225°C), preferably with the broiler function on.

Wash and trim the asparagus.

Slice the cheese into as many pieces as asparagus, and then divide each slice in two.

Cut the slices of prosciutto in two pieces lengthwise and wrap each piece around one asparagus and two pieces of cheese.

Place in a baking dish lined with parchment paper. Add pepper and drizzle with olive oil.

Broil in the oven for about 15 minutes until golden brown.
Video
Notes
Tip!
Make it your way! This recipe leaves the asparagus crisp tender. If you prefer your asparagus on the softer side, go ahead and parboil them for a minute or two.
Original Recipe: https://www.dietdoctor.com/recipes/keto-prosciutto-wrapped-asparagus-goat-cheese
And there you have it! Prosciutto-Wrapped Asparagus, a delicious, keto, bite to eat that you, your family, and friends will enjoy. If you want more delicious healthy recipes, I suggest you look at one of my previous recipes! There are many to choose from, and all of them will be either keto, paleo, whole30, gluten-free, dairy-free, or sugar-free. Or some combination of all of those!
Appitizers: Vegan Artichoke Dip, Gluten-Free Cauliflower Wings, Loaded Sweet Potato Skins, and a Vegan Hawaiian Cheese Ball.
Desserts: Paleo Truffles, Chocolate Peppermint Cookies, a Dark Chocolate Dessert Bar, and Sun Butter Cookies.
Soups: Curried Butternut Squash Soup, Vegan Black Bean Chili, and Gluten-Free Ramen.
Smoothies: Mixed Berry Smoothie and Green Detox Keto Smoothie.
Find Dr. Kilcup on: