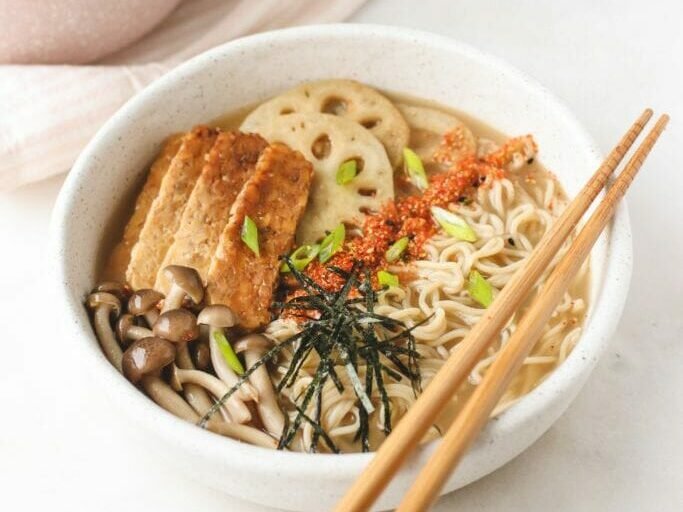 January is such a cold month, especially, in some places where the snow has truly piled up high. Thankfully, here in Phoenix, Arizona, we don't have snow! Even still, however, it's still super chilly for us thin-blooded native Arizonans. So, no matter where you are, here is a nice warm soup recipe to help you get to Spring! Enjoy unique and delicious flavors from Japan in this authentic Gluten-Free Shoyu Ramen.
Japanese food has gained popularity in the United States with tasty dishes like sushi, miso soup, and ramen. As well, personally, I love Japanese food! Ramen is one of my favorite dishes (after sushi!), but it's usually a very gluten-heavy dish. From the wheat noodles to the gluten in soy sauce, it has really hurt my gluten-sensitive body in the past. This recipe is a good one if you are like me, a gluten-free foodie.
Ingredient Hunting
In this recipe, some ingredients may not be on your regular shopping list. However, they can be easily located at your local Asian Market and possibly even your regular grocery store. If you prefer, you can also find some of these ingredients on Amazon. For the Sautéed Lotus Root, the original recipe author has a recipe that I have linked if you want to be adventurous!
Find the ingedients on Amazon, here:
Hope this helps! Thank you for reading and enjoy this tasty Ramen.
Gluten-Free Shoyu Ramen (vegan, oil free)
A gluten-free shoyu ramen that you can easily make at home with zero gluten required!
Ingredients
Broth
4

cups

Veggie Broth

1-2

pieces

Dried Kombu

seaweed

6-10

Dried Shiitake Mushrooms

1-2

tbsp

Tamari or Liquid Aminos
Other
1

serving

Gluten-Free Ramen Noodles

1/4

cup

Shimeji Mushrooms

or mushrooms of choice

1

serving

Tempeh or Tofu

grilled

Other Veggies of Choice

bok choy, corn, spinach, carrots, etc.
Optional
1/3

cup

Sautéed Lotus Root

1

sheet

Nori

seaweed

Shichimi Togarashi

Japanese pepper spice

Scallions

to top

1

tsp

Toasted Sesame Oil
Instructions
In a saucepan, bring veggie broth to a boil, and add dried kombu and shiitake mushrooms. Allow to boil for about 10 minutes on low heat, and steep while you prep your ingredients. If you have time, let ingredients steep in advance for extra flavour.

When ready to serve, heat on low and add tamari to taste. Try to avoid bringing broth to a boil once tamari is added.

Boil ramen noodles and shimeji mushrooms and strain.

To serve, add noodles to a serving bowl, and toppings like mushrooms, lotus root, tempeh, and any additional veggies.

Pour soup over top of noodles.

Garnish with scallions, shichimi togarashi and nori. Enjoy!
Notes
Tip: I recommend not cooking noodles far in advance or saving cooked noodles for leftovers, as the texture will not stay in tact.
Original Recipe: https://veggiekinsblog.com/2019/07/25/gluten-free-shoyu-ramen/
The original recipe author notes that the shiitake and kombu are being used to infuse flavor into the broth. The longer it is allowed to steep, the deeper and richer the Ramen broth will become. This makes it taste more like the traditional and proper way authentic Shoyu Ramen should taste.
I hope you enjoy this yummy Ramen recipe! Check out my past recipes for more healthy cooking inspiration. Come back next week for some delicious salad dressings!
Like soup and want another recipe? Try this Curried Butternut Squash Soup!
Find Dr. Kilcup on: