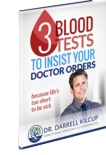 Send Me Dr. Kilcup's FREE Guide "3 Blood Tests To Insist Your Doctor Orders"
Are you frustrated with traditional medicine?
Are you tired of doctors who tune you out as soon as you ask about alternative treatment options?
Do you want to get to the root of what's causing your health problem?
Have you been told that all your tests are normal, but you're still sick?
Do you want to get well without taking drugs?
Are you taking a bunch of prescriptions or supplements or both and are still sick?
Dr. Kilcup can help you find real answers
Chronic conditions are often a result of more than one component of the body not working correctly. I see many patients who have been to one or more doctors without finding relief. Usually the other doc has treated PART of the patient's problem but neglected other dysfunctional components. As a result, the patient either experienced partial relief or no relief at all. Every part of the system is as important as another because they work together. Just like baking a cake, every ingredient is important if you want to get a delicious dessert. I find that if we identify and address every aspect of the patient's problem we get excellent results.
Dr. Kilcup specializes in helping people who have conditions like these:
Gastrointestinal Health
Irritable Bowel Syndrome (IBS), Small Intestine Bacterial Overgrowth (SIBO), Acid Reflux, Leaky Gut, Food Intolerances, C-DIFF
Fatigue
Chronic Fatigue Syndrome, Adrenal Fatigue, Hypo Thyroid
Hormone Imbalances
Adrenal, Thyroid, Sex Hormones
Mental Health
Anxiety, Depression, Insomnia, Brain Fog, PMS, ADD, Hyperactivity
Migraine Headaches
Chronic Headaches and Migraines
Autoimmune Diseases
Celiac Disease, Hashimoto's Disease, Rheumatoid Arthritis (RA), Multiple Sclerosis (MS), Lupus, Crohn's Disease, Ulcerative Colitis
Chronic Infections
Parasites, Tick-Borne Pathogens,
Epstein-Barr Virus, Cytomegalovirus
Detoxification
Metal and Heavy Metal Toxicity, Chemical, Mold
Fibromyalgia
General Joint & Body Pain Syndromes
Back & Neck Pain
Chiropractic Care & Massage
If this is you, you are not alone and I can help
I work with people all over the country and I am passionate about bridging the best of safe, effective, wholesome healthcare with rock solid science.
Our Approach
You want a doctor to listen intently to you. You want a doctor to be honest, and if you can be best helped somewhere else, refer you to the appropriate professional. You want a doctor to honor you by explaining, to your satisfaction, what your problem is and the best treatment options. You don't want a cookie cutter approach to care. You want a doctor who is just as concerned about saving you money as you are. You want the doctor to treat you exactly like he or she would want to be treated. How's that? This is what I strive to do with each and every patient.
Objective Diagnostic Testing
I don't guess about your health. I want to give my patients answers that are based on the best of science.
Non-Drug Approach
I never prescribe drugs as part of a patient's treatment. I will educate you about your drugs, but I leave decisions about taking them up to you and your doctor.
Personal Care
My patients are treated with kindness, compassion, respect and honesty. Besides helping my patients physically I want to bring a little joy into their lives.
Addresses Total Body Systems
Everything is connected. I take into account emotions, diet, lifestyle and all of the body systems when I'm working with a patient.
Treats Root Causes
I don't treat diseases. What caused your health problem is what I'm interested in.
Nutrition Based
Treatment recommendations consist of lifestyle, diet and specific nutrients based upon objective testing.
Individualized Treatment Plan
No two people are the same. No two treatment plans are the same. My patients get the treatment that is best for them.
Focuses on Long-Term Healing & Health
Finding the underlying problems that are causing your symptoms will help in the short term, but the goal is to get my patients truly healthy so they live a long healthy life.
I have been going to Dr. Kilcup for several months now and the change has been tremendous. Among other things, I had severe menstrual cramps, migraines, hair loss, exhaustion, anxiety, and brain fog. I had been to several different doctors and they couldn't figure out what was wrong with me. Dr. Kilcup actually took the time to speak with me regarding all of my issues and then ordered testing to verify the problems. He didn't just write me off, or order one blood test and tell me everything was fine. He cares about his patients and wants to help them have a better quality of life. I can tell you that almost all of my issues are better or gone. I've never been able to work out because I felt so terrible all the time and now I'm training for a half marathon! I've never felt this good in my entire life and it's honestly thanks to Dr. Kilcup.
~Elisha Swier
I went to Dr. Kilcup originally for help with insomnia. I would get 1-3 hours of sleep every night at the most. Also, every time I ate I would feel really sick. Obviously I couldn't stop eating and I needed to sleep eventually so I went to Dr. Kilcup for help. He asked me about my symptoms and was able to quickly diagnose me. He was great about being up front with me and explained his conclusion in a way I would understand. Then, he got me on an all natural plan to fix it. This involved a strict diet and natural supplications. Although it wasn't fun cutting half my diet out, I felt so incredible after a month and it was easier after that. I was sleeping at least 5 hours a night easy, and I didn't feel sick at all! I finally felt normal! I would definitely recommend Dr. Kilcup for anyone who would like a natural fix for digestion problems.
~ Aletheia Birch
The Latest Articles & Videos
This video breaks down acid reflux - what it is and how to treat it with functional medicine.
How can you protect yourself from getting sick? Well, to boost immunity there lot's of different options, but the one I'm going to go over today is a proactive way to help your body A TON in the...
Is Red Light Therapy for Cancer? Well, if you've seen some of our other articles for Red Light (aka Photobiomodulation, PBM) then you know it is tested and proven to treat so many things! Including:...