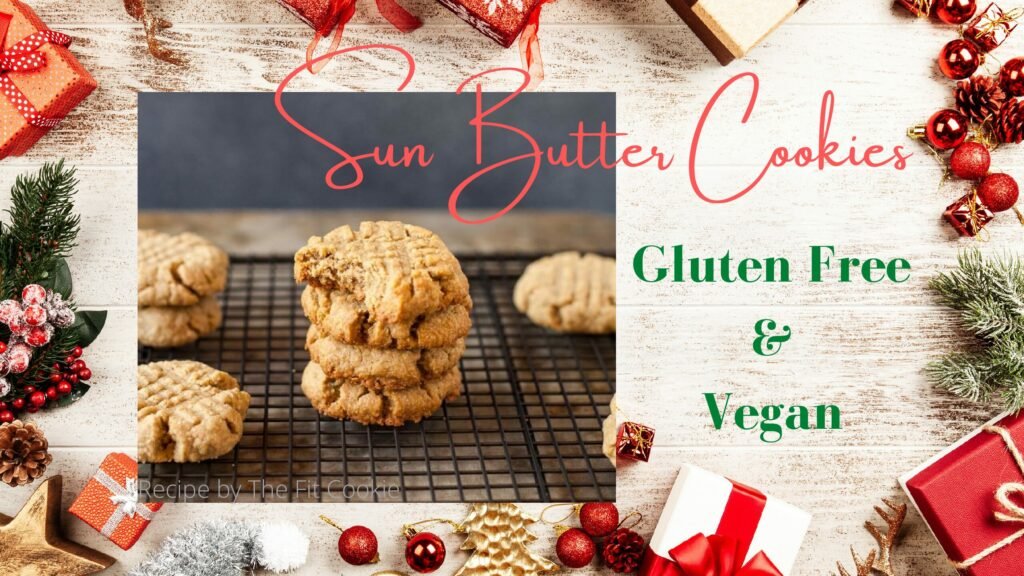 This Christmas season, don't say good-bye to your favorite Peanut Butter Cookies, but rather try these healthier alternative Vegan SunButter Cookies! They are also Gluten-Free and Nut-Free, making it so more people can enjoy them. It makes it really easy to make them for friends and family, or even bake a batch for your neighbors, without having to leave anyone out. Even if you are not Vegan or Gluten-Free, this recipe will still be a good, healthier option than traditional Peanut Butter Cookies.
What is Sun Butter?
SunButter is made from sunflower seeds – which are a great source of protein, healthy fats, vitamin E, and magnesium. Protein and healthy fats keep you feeling full and energized, and the vitamin E is a powerful antioxidant. As well, magnesium is a key mineral that promotes good sleep, muscle recovery, and healthy digestion. Moreover, the best part is that is is allergen friendly! That means even those with peanut or chocolate allergies can have this Christmas cookie.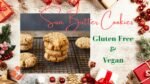 Print Recipe
Vegan Sun Butter Cookies
These allergy friendly, vegan, and Gluten Free Sun Butter cookies are like a cross between a shortbread and a soft cookie. They are delicious and completely nut free!
Ingredients
2

tbsp

Ground Flax Seed

2

tbsp

Water

1/2

cup

Sun Butter*

1/4

cup

Natural Palm Shortening

1/3

cup

Packed brown Sugar

1/3

cup

Stevia in the Raw

1

tsp

Vanilla Extract

3/4

cup

Fine Sorghum Flour OR Brown Rice Flour

1/4

tsp

Salt
Instructions
Preheat oven to 350 degrees F. Line a cookie sheet with parchment paper and set aside

In a small cup, stir together the flax seed and water. Set aside

In a medium bowl, with a hand blender, beat together the Sun Butter and palm shortening until creamy

Beat in the brown sugar, Stevia in the Raw, vanilla, and the flax water mixture

Add the sorghum flour and salt to the Sun Butter mixture and beat together until blended and a thick but crumbly dough forms. Press the dough together into a large ball

Pinch off pieces of cookie dough and roll into balls about 1-1/2 inches in size, then press a fork cross-wise into the dough to slightly flatten the cookies

Bake the cookies on the prepared cookie sheet for 13-14 minutes

Allow cookies to cool for about 5 minutes on the cookies sheet before removing them to a cooling rack
Notes
Original Author:
https://thefitcookie.com/gluten-free-sunbutter-cookies/#recipe
And there you have it. Vegan SunButter Cookies that are good for everyone and tasty! I hope you enjoy this recipe – don't forget to let me know below. I love hearing from you guys! If you're more of a chocolate person, you are in luck! We have three recent chocolate dessert recipes: truffles, dark chocolate walnut date bars, and peppermint chocolate cookies. Feel free to check them out!
Find our Previous Recipe on a Vegan Hawaiian Cheese Ball:
Find us on: