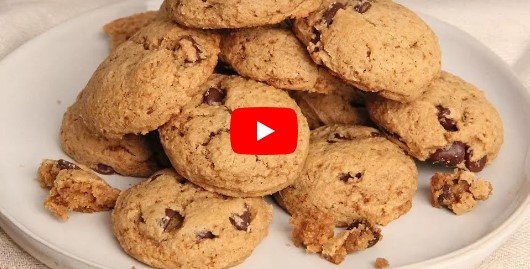 However good other cookies may be, there's something about the classic Chocolate Chip cookie that makes it stand out from all the rest. It's golden crispy crunchiness and gooey chocolate interior with milk is practically heaven. Normally, these cookies are loaded with sugar, gluten, and different vegetable shortenings that can be detrimental to your health. There is good news! Then this recipe for the Best Paleo Chocolate Chip Cookies will let you still enjoy this dessert without compromising on eating well.
Why Paleo?
You may have noticed that a large majority of the recipes I use and post are paleo. If you are wondering why, the answer is pretty easy… I am paleo! This means that my diet looks like: fruits, vegetables, lean meats, fish, eggs, nuts and seeds. Essentially, this diet is based off of the foods that people in the past could get by hunting and gathering. It does not include: grains, legumes and dairy products. This means that paleo is Gluten-Free and Dairy-Free. Even if you are not paleo, cutting out gluten and dairy are not a bad idea… here's why: Food Sensitivities.
Food Sensitivities
A food sensitivity happens when a food triggers a negative reaction in the immune system. These reactions involve different parts of the immune system and the negative effects are experienced in many ways. This is why one patient may have their joint pain go away after eliminating an offending food, while another patient's intestinal issues clear up. What kind of negative immune reaction, and what effect that reaction will have, is greatly influenced by genetics and what kinds of problems a person is dealing with.
Here are some of the things a food sensitivity can cause: joint pain, fatigue, stomach pain, chronic sinus problems, rashes, headaches, seizures, hair loss, nausea, constipation, diarrhea, nagging coughing, weak immune system, heartburn and bloating.
If you have the symptoms mentioned above and want real results, then I highly recommend getting a Food Sensitivity test. It tests for 141 foods, 29 chemicals compounds and is a simple kit that is mailed to your house (not available in New York). Then all you have to do is take it to one of our recommended blood draw sites. After that, you usually get the results back in a week!
You can call the office at (602) 864-0304 to ask questions or order a Food Sensitivity test kit, you don't have to be a patient! The test is $695 and you will get printed results sent to you as well as digital ones emailed with a video from Dr. Kilcup going over how to do the diet. If you do want to become a patient or want to know about Functional Medicine, look HERE.
If you want more information on Food Sensitivities, look HERE!
---
Print Recipe
Best Paleo Chocolate Chip Cookies
Ingredients
1/3

cup

Coconut Oil

2

tbsp

Almond Butter

1/2

cup

Coconut Sugar

1

Egg

2

tsp

Vanilla Extract

1 1/3

cup

Fine Almond Meal

1/2

tsp

Baking Soda

1/4

tsp

Salt

3/4

cup

Sugar-Free Chocolate Chips or Chunks
Instructions
In a large bowl, whisk together the coconut oil, almond butter, coconut sugar, vanilla, and egg. Fold in the almond flour, baking soda, salt and chocolate chips.

Cover the dough and pop it in the fridge for about an hour.

Preheat your oven to 350 degrees, line a baking sheet with some parchment paper then using a small ice cream scoop, form your cookies and place them a couple of inches apart then give them a gentle press and bake them for about 9 to 10 minutes or until golden brown around the edges but still soft in the center, allow them to cool slightly before serving.
Notes
Original Recipe: https://www.laurainthekitchen.com/recipes/paleo-chocolate-chip-cookies/
If you like this recipe for the Best Paleo Chocolate Chip Cookies, please share and tag us – we would love to hear from you!
Find Us On:
If you need help with:
Pain Relief: Arthritis, Fibromyalgia, Post workout
Skin/Hair: Wrinkles, Acne, Eczema, Psoriasis, Stretch marks
Eye Health: Macular degeneration, Glaucoma, age related decline, Dry Eye
Cognitive Function: Alzheimer's, Parkinson's, Dementia, Stroke, TBI
Thyroid: Male and Female Hormones
Then you you should try out Red Light Therapy! It can help these problems, and a lot more. Read THIS for More Information!