Sugar-Free Sugar Cookies… that almost sounds like a joke! However, if you are trying to be healthier, but still want an easy dessert, then this recipe is the one for you. They take only 10 minutes to bake and only need 3 ingredients – it doesn't get easier than that. For more easy, tasty, and health-conscious recipes, look HERE.
Does Sugar-Free Always Mean Healthier?
If you said yes, you may be wrong. In a lot of cases, sugar is substituted with alternatives that are just as bad or worse for you. Some of those artificial alternatives are: aspartame, sucralose, and acesulfame K. You can find those in a lot of beverages and desserts that are listed as 'sugar-free'. Natural Sweeteners, which are better than refined and artificial sweeteners, are: honey, molasses, maple syrup, and fruit juices & nectars.
"… refined, concentrated sugar consumed in large amounts rapidly increases blood glucose and insulin levels, increases triglycerides, inflammatory mediators and oxygen radicals, and with them, the risk for diabetes, cardiovascular disease and other chronic illnesses," – Dr. Ludwig
Best Sugar Substitute Options
The following are all ones I have used and like:
Stevia, Monk Fruit, Allulose, Erythritol Blend
Any of the sugar substitiutes listed above are great options and will work for these Sugar-Free Sugar Cookies. You can also find one of your own here!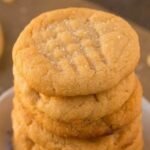 Print Recipe
Sugar-Free Sugar Cookies
These soft and chewy cookies only need 3 ingredients to make! They are a simple, delicious and healthier dessert option.
Ingredients
1

cup

Almond Butter

or any nut or seed butter of choice

3/4

cup

Sugar Substitute

see notes

1

large

Egg

room temperature
Instructions
Preheat the oven to 180C/350F and line a baking tray with parchment paper or a cookie sheet.

In a large mixing bowl, combine all your ingredients and mix until well combined.

Using a cookie scoop or your hands, form small balls on the cookie sheet, spread 3-4 inches apart. Press each ball into a cookie shape and press down with a fork. Bake for 8-10 minutes, or until cookies are 'just' golden brown but still soft.

Remove from the oven and allow to cool completely.
Notes
SUGAR: Either a white sugar sub, brown sugar substitute, or powdered sugar substitute. 
TO STORE: Leftovers can keep at room temperature, covered, for up to one week. If you'd like them to keep longer, store them in the refrigerator for up to four weeks. 
TO FREEZE: Place the cookies in a Ziplock bag and store them in the freezer for up to six months. 
Original Recipe: https://thebigmansworld.com/3-ingredient-sugar-free-flourless-cookies-paleo-vegan-gluten-free/
Find Us On:
If you need help with:
Pain Relief: Arthritis, Fibromyalgia, Post workout
Skin/Hair: Wrinkles, Acne, Eczema, Psoriasis, Stretch marks
Eye Health: Macular degeneration, Glaucoma, age related decline, Dry Eye
Cognitive Function: Alzheimer's, Parkinson's, Dementia, Stroke, TBI
Thyroid: Male and Female Hormones
Then you you should try out new Red Light Therapy! It can help these problems, and a lot more. Read THIS for More Information!