WOW. When I got Red Light therapy for the office, I was blown away by all of the amazing benefits that all come from this easy, affordable, and proven-to-work therapy. It can help you lose fat, reduce acne, help your thyroid, treat diabetes, help with depression/anxiety, and improve sleep. With so many applications, you may be wondering can Red Light help wrinkle reduction? And the answer is YES! Numerous studies have shown that Red Light can help reduce wrinkles and improve skin health.
Why does it work?
There are several things that make red and near infrared (NIR) light special. The first is that red and NIR light stimulates the mitochondria in your cells, an essential part of producing energy and maintaining cell health. This helps reduce cell death. It also boosts collagen, elasticity, and reduces inflammation and hyperpigmentation (like age spots)
Red and NIR light penetrates more deeply than shorter light wavelengths of light like blue and green light. As you can see in the graphic below different wavelengths of light penetrate the body at different levels. Even different colors of red light penetrate at different levels. The Mito Red light panels we use and recommend have Red and Near Infrared (NIR) lights with wavelengths of 630, 660, 810 and 850 nm wavelengths. This simply means that the panels we have in-office and available for purchase are the real deal!
The Studies Show…
The proof is there! There are many studies on Photobiomodulation therapy (PBMT), aka Red Light therapy, that show physical changes as well as internal changes in the body.
One study treated just half of a subject's face with red light, the skin appeared younger-looking on the PBMT treated side compared with the untreated side. This study went on to find: the skin elasticity increased by 56% on the side treated with PBMT and 17% on the side not directly treated with PBMT. This is important! It shows that even if a body part is not immediately being exposed to the light, it still can improve to some degree. The power of these lights is real! And after the study, the subjects' self-improvement scores were good/excellent in 83% of intervention sides and 26% of control sides.
For dermatology, another study stated: PBMT has beneficial effects on wrinkles, acne scars, hypertrophic scars, and healing of burns. It can also reduce UV damage both as a treatment and as a preventative measure. In pigmentary disorders such as vitiligo, PBMT can increase pigmentation by stimulating melanocyte proliferation and reduce depigmentation by inhibiting autoimmunity. Inflammatory diseases such as psoriasis and acne can also be managed. The noninvasive nature and almost complete absence of side effects encourage further testing in dermatology.
A study on At-Home PBMT devices shows: "…a clinical study assessed the safety and efficacy of a daily treatment with the home-use device for 28 days. A significant increases in skin density and radiance while reducing the wrinkles was obtained with no side effects."
See the physical results of one study below:
Negative side effects have not been reported from the use of PBMT!
Sign Me Up!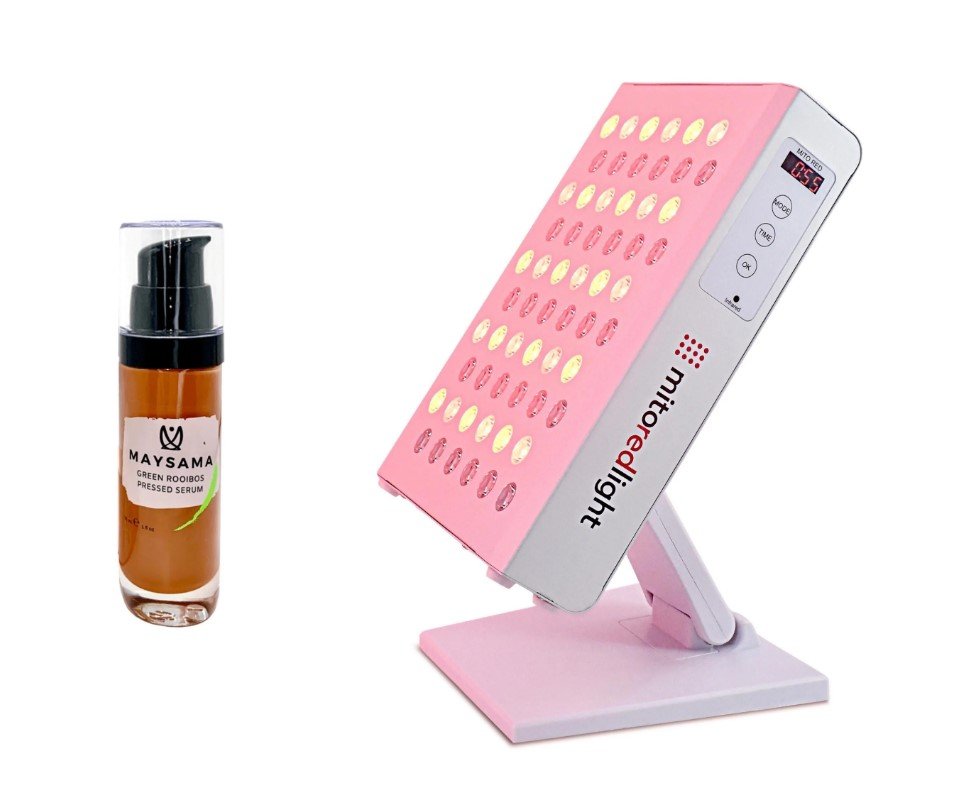 If you are ready to boost your skin in this amazing way, you can get an At-Home Device HERE. Use code Dr.Kilcup5% to save money!
You can also order this amazing Maysama Green Rooibos Pressed Serum (read more HERE) with your at-home Red Light device. It is proven to work and can further benefit your skin with 3 times more wrinkle reduction. Order together HERE – use code Dr.Kilcup5%.
If you live close enough to come in person, we HIGHLY recommend doing so! We have 2 full size panels that will cover every inch of your body with this amazing healing light. Appointments are only 15 minutes and you can come in up to 3 times a week (recommended). We have one of the lowest priced subscription prices as well! Our UNLIMITED plan is $49.95 a month – one of the best prices around! Call the office today at (602) 864-0304 for more information or to get started. Located in Phoenix, Arizona
Office Hours: Mondays, Wednesdays, Fridays from 7am-1pm and 3pm-6pm
Other Amazing Ways to Use Red Light Therapy
And that's why full body use is so amazing! Because not only can you reduce wrinkles, you can also get so many other benefits – without side effects.
---