If you are not using Red Light therapy for your skin, you really should! Red Light therapy, aka Photobiomodulation (PBMT), has been proven time and time again to have AMAZING skin benefits – including wrinkle, acne, hyperpigmentation and scarring reduction. But, if you are wanting even better results, you have to try this powerful green tea serum in conjunction with your Red Light therapy treatments. It truly is the best non-surgery wrinkle reduction treatment!
It's Easier Than You Might Think!
There is now incredible research on how green tea, when used with PBMT, can impact your skin phenomenally. Now, green tea on its own won't be the most helpful, but there is a Green Rooibos Extract serum from Maysama that has been specifically tested and proven to work. This serum is unique because the green rooibos extract is aspalathin-enriched, an antioxidant powerhouse, with 3% niacinamide, and an extensive line up of multi-tasking ingredients including Centella asiatica, Sea-buckthorn and Liquorice. Inspired by Korean Beauty, it is formulated to protect and repair your skin from environmental damage and promote healthy skin.
Proof it really Works!
New data confirms beyond doubt that Maysama Green Rooibos Pressed Serum, when used in conjunction with your red light treatment will enhance results for skin rejuvenation on average 2.6 times, relative to using PBMT alone.
First, I want to note why green tea has such a special relationship with PBMT. We know that Red Light stimulates mitochondria, the powerhouse of our cells, and helps increase cellular energy by speeding up the production of ATP. This process, known as mitochondrial respiration, also generates free radicals, which are important signaling molecules to drive cellular processes like cell proliferation, cell migration and protein synthesis.
Extended use of PBMT, however, can lead to a build-up of free radicals, which start to inhibit our cellular processes and slow the efficiency of your Red Light device. Our cells' natural antioxidant systems help to keep the number of free radicals in check, but supplementing your natural antioxidant defenses with topical antioxidants, like green tea, allow your Red Light device to work more efficiently. This is because, unlike other antioxidants, green tea polyphenols target free radicals at the source, in the mitochondrial membrane where they are produced.
The Maysama serum uses fresh green rooibos tea leaves that have not oxidized. These leaves have a high polyphenolic content, which gives them a high antioxidant capacity. Maysama's Green Rooibos Pressed Serum is prepared from sustainably farmed rooibos and undergoes patented extraction, which increases its antioxidant potential 70-fold, making it probably the most pure and potent green tea serum on the market.
As Seen In:
How Did the Serum Help Reduce Wrinkles?
Mito Red Light and Maysama set up an extended product test using the Green Rooibos Pressed Serum as a co-treatment with a Mito Red's 60 LED panel (the same kind as what use here in our office – only ours are bigger!). A group of 16 volunteers, women aged 27 to 65, used the combination therapy for a period of 3 months, after which changes to skin were assessed.
Wrinkles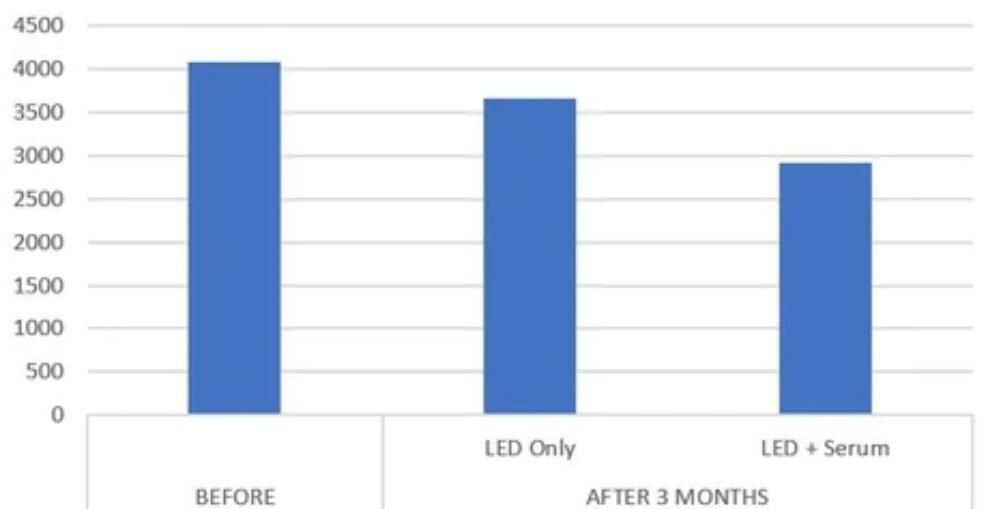 Without a doubt, Mito Red Light and Maysama's Green Rooibos Pressed Serum are the perfect pairing! With more than double the results for reduction in erythema and pigmentation, and nearly three times the outcomes for reduction in wrinkles and increased elasticity, this combination therapy is set to supercharge your Red Light Therapy treatment for skin rejuvenation.
In just three months you could be looking at 55% increased skin elasticity and nearly 30% reduction in fine lines and wrinkles.
Skin tone is one of the factors that is said to age your complexion even more than wrinkles. Pigmentation and erythema (redness) are key things that contribute to overall skin tone. Your Mito Red Light + Maysama combination therapy will also bring you an improvement in skin tone, with 30% less erythema and 23% reduction in pigmentation (see more below!). And last but not least, inflammation governs skin health and contributes to premature aging. Your Mito-Maysama combo therapy will reduce inflammation by 16% and ensure that your skin stays healthy and youthful for the long term.
Erythema/Rosacea
As noted above, not only were wrinkles greatly reduced, but so were other skin conditions! One of those conditions is erythema, a type of rosacea. Erythema is redness of the skin or mucous membranes caused by increased blood flow in superficial capillaries.
Results show that continued use of PBMT over three months can reduce erythema by 12.99% – which is great news for rosacea sufferers – but when combined with Maysama Green Rooibos Pressed Serum, the data shows a further 30.14% reduction to erythema. That's more than twice what was achieved with stand-alone Red Light therapy.
Hyperpigmentation
Hyperpigmentation is a common skin concern, caused by over production of melanin in the skin, and includes liver spots, freckles and melasma. It is generally caused by sun exposure and acne scarring. The results confirm that red light therapy is beneficial for reducing hyperpigmentation! Read more HERE.
Sign Me Up!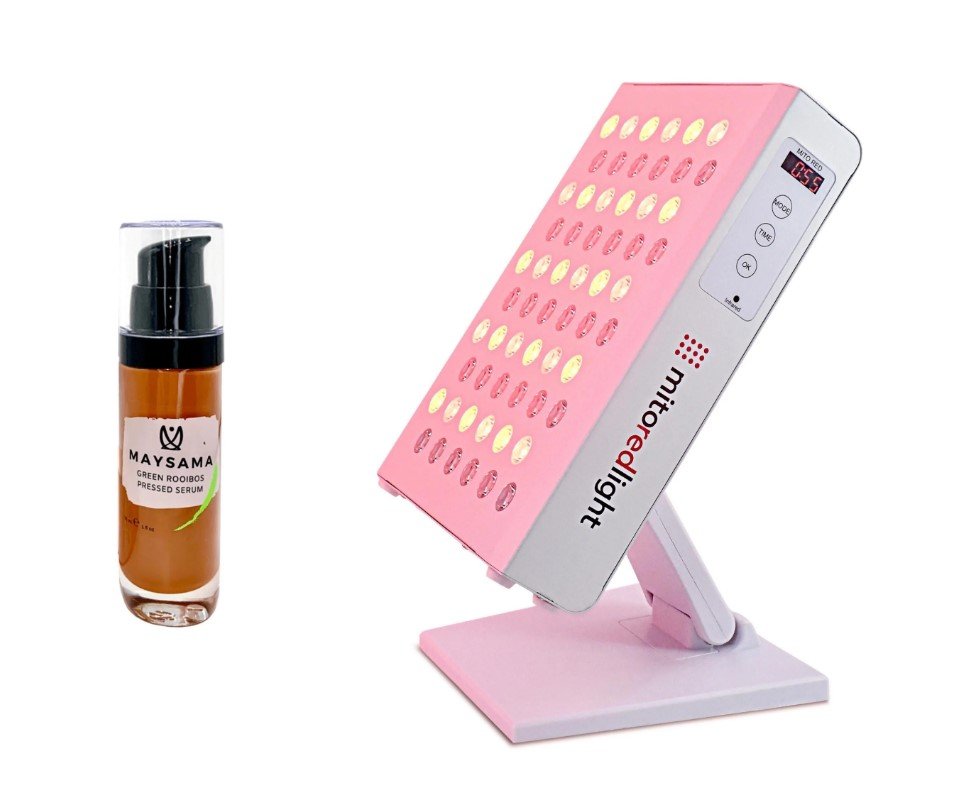 If you are ready to boost your skin in this amazing way, you can order the Maysama Green Rooibos Pressed Serum HERE with your own Red Light at-home device. Use code Dr.Kilcup5% to save money!
Already have a Red Light device? Get the serum on its own in-office!
If you live close enough to come in person, we HIGHLY recommend doing so! We have 2 full size panels that will cover every inch of your body with this amazing healing light. Appointments are only 15 minutes and you can come in up to 3 times a week (recommended). Our UNLIMITED plan is the best price around! Call the office today at (602) 864-0304 for more information or to get started. Located in Phoenix, Arizona
Office Hours: Mondays, Wednesdays, Fridays from 7am-1pm and 3pm-6pm
Other Amazing Ways to Use Red Light Therapy
And that's why full body use is so amazing! Because not only can you reduce wrinkles, you can also get so many other benefits – without side effects.