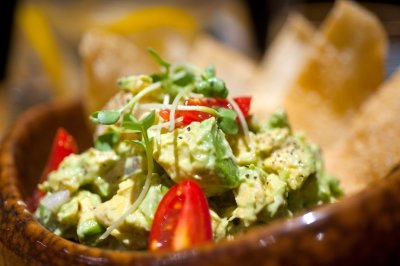 Guacamole is a great side dish to have all year round, but especially on Cinco de Mayo. Cinco de Mayo is often celebrated in the US, though it is a minor holiday in Mexico, and usually revolves around some good Mexican food. Guacamole is one of the dishes you will traditionally see served with tortilla chips. It is made with some variation of smashed avocado, onion, jalapeno, tomato, and lime – and it's delicious! This recipe will help you tap into those bright latin flavors to make the best healthy guacamole.
Power of Avocados
Avocados are high in fat. Which sounds bad, but it's monounsaturated fat, which is a "good" fat that helps lower bad cholesterol, as long as you eat them in moderation. These green fruits are also full of much needed vitamins and minerals like potassium, folate, and vitamins B6, C and E. This helps with lowering your risk of some cancers, depression, arthritis, osteoporosis, and inflammation. Avocados also help maintain good digestion, blood pressure, heart health, and vision! Overall, these green fruits simply need to be in your regular diet. Read more about avocados HERE.
Print Recipe
Healthy Guacamole
For Cinco de Mayo, or any time of the year, this Guac is the Best!
Ingredients
3

Whole Avocados

ripe

2 1/2

tbsp

Fresh Lime Juice

3/4

cup

Onion

diced

3/4

cup

Tomatoes

diced, organic

1/4

cup

Fresh Cilantro

chopped

1

Jalapeño Pepper

finely diced, seeds removed

3

Garlic Cloves

minced

3/4

tsp

Sea Salt

1/2

tsp

Pepper

Freshly Ground
Instructions
Add ripe avocados to a large bowl. Using a potato masher or a large fork, mash until nearly smooth. Be sure to leave some chunks for texture!

Add red onion, tomato, cilantro, jalapeño, garlic, lime juice, salt and pepper to the bowl.

Fold the ingredients until evenly combined. Serve and enjoy!
Notes
Be sure to use ripe avocados. Ripe avocados are lightly soft (but not mushy) and the peel is darker in color.
Using Cherry Tomatoes can help to elevate the dish and give it a better texture, depending on the tomatoes.
For added look, you can add garnish like Broccoli Sprouts, a sprinkle of Cotija Cheese, and/or extra diced tomatoes and cilantro to the top.
Hopefully this 'Best Healthy Guacamole' recipe will be a smash hit at your Cinco de Mayo parties and year round! Let us know what you think with a comment or sharing.
Find Us On:
Learn about our Red Light therapy here: