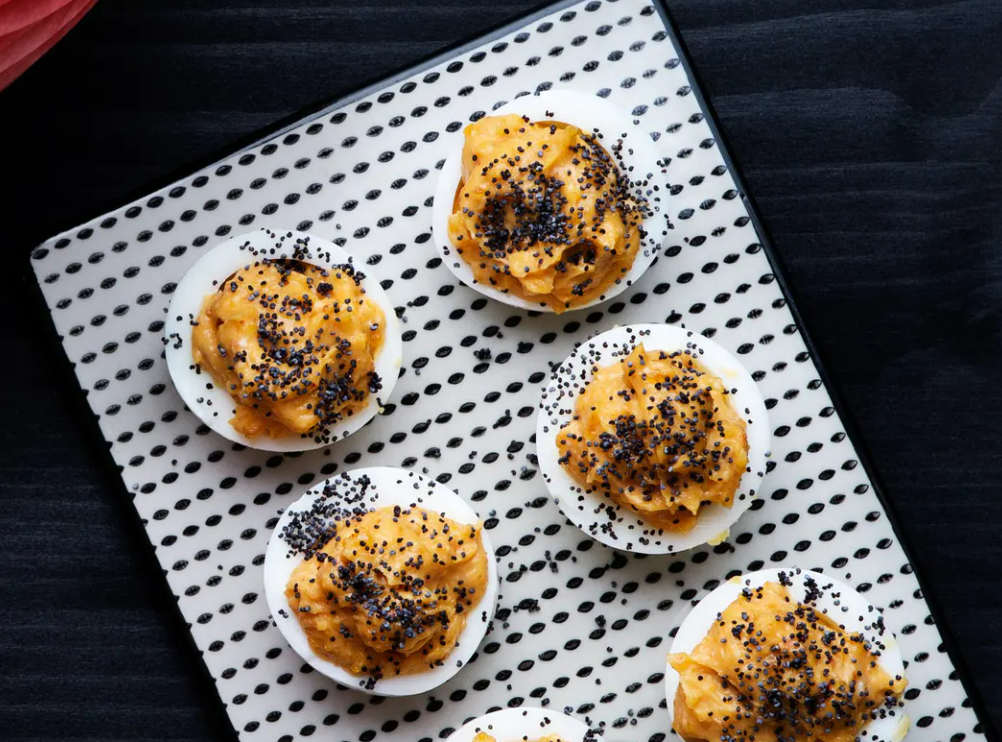 On Easter, my family makes Deviled Eggs after all the dyed eggs have been found. This is a great way to use up the already hard boiled eggs to make a tasty appetizer before the main Easter meal. Even if you're not dyeing eggs, this Spicy Keto Deviled Eggs recipe works for any holiday and is still totally delicious and keto!
These Deviled Eggs are perfect for even those who have dietary restrictions, and taste good for everyone. They are gluten-free, low carb, and can be made dairy-free. If you're needing more hors d'oeuvres for your holiday table, I have some other great recipies for you (including vegan options!). Not to mention great dessert options, as well as a new one next week! Some previous appetizer recipes include, a Vegan Artichoke Dip, Gluten-Free Cauliflower Wings, Loaded Sweet Potato Skins, and a Vegan Hawaiian Cheese Ball. They are all delicious and a fun healthy twist on modern cooking and baking. You can't go wrong with any of them, enjoy!
Print Recipe
Spicy Keto Deviled Eggs
Delicious spicy deviled eggs with heat and flavor – the perfect keto snack or appetizer for any holiday!
Ingredients
6

Eggs

1

tbsp

Red Curry Paste

1/2

cup

Mayonnaise or Vegan Mayonnaise

1/4

tsp

Salt

1/2

tbsp

Poppy Seeds
Instructions
Place the eggs in cold water in a pan, just enough water to cover the eggs. Bring to a boil without a lid.

Let the eggs simmer for about eight minutes. Cool quickly in ice-cold water.

Remove the egg shells. Cut off both ends and split the egg in half. Scoop out the egg yolk and place in a small bowl.

Place the egg whites on a plate and let sit in the refrigerator.

Mix curry paste, mayonnaise and egg yolks into a smooth batter. Salt to taste.

Bring out the egg whites from the refrigerator and apply the batter.

Sprinkle the seeds on top and serve!
Notes
Tip!
We've used curry paste, but you can use any chili paste with or without curry flavor, or try chipotle paste.
Original Recipe: https://www.dietdoctor.com/recipes/spicy-keto-deviled-eggs
If you like this recipe, please check my other ones! As well, you won't want to miss next week's recipe on a fun Easter-themed paleo dessert.
Find Dr. Kilcup on: