I know this may seem too good to be true, but this two ingredient salad dressing really is one of the easiest ways to make your salad top notch. It adds healthy fats to your meal, which is essential in helping you digest the nutrients in the salad to the max. In addition, it is a guaranteed way to know what you are putting into your body. No secret ingredients that catch you by surprise or trick you. Try it out and let me know what you think!
The only players in this two ingredient salad dressing are: Extra Virgin Olive Oil and Organic Apple Cider Vinegar.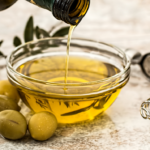 Print Recipe
2 Ingredient Salad Dressing
The easiest dressing to make your salad taste delicious!
Ingredients
1

tbsp

extra virgin olive oil

2

tbsp

organic apple cider vinegar
Instructions
Mix together the olive oil and apple cider vinegar, and voila! Easiest dressing in the world.
Notes
If you happen to be allergic to olives, alternatives could be avocado oil, flax oil, algae oil, sunflower oil, or melted coconut oil!
Find our Socials Here:
We have a new service! Photobiomodulation, aka Red Light therapy
It has amazing benefits, including: wrinkle reduction, improving cognitive function, eye health, diabetes treatment, and so much more!