Christmas is in three days! I can't believe we are almost there – December totally flew by. On Christmas mornings, it is fun to just sit back and relax – which is why this Paleo Overnight Breakfast Casserole is the perfect meal! It can be prepped the night before and left in the fridge. Then simply pop it in the oven (while you open gifts!) and enjoy a delicious and healthy breakfast for your whole family.
Having a healthier diet mindset is a great way to make sure you're eating well. You will see in the recipe that instead of regular potatoes, there are sweet potatoes. As well, this is a grain and sugar-free breakfast – which is always a good idea. Most breakfast dishes have heaps of sugar, dairy, and gluten – for example: cinnamon rolls, most cereals, and pancakes. While they are definitely delicious, they can really hurt our digestive systems. And I don't know about you, but I don't want my stomach hurting on Christmas Day!
This meal has a lot of protein to leave you feeling satisfied throughout the festivities without a sugar crash. Once you take a bite, you won't even realize it's 'healthy' because you'll be blown away by a savory blend starring eggs, sausage, sweet potatoes, and a flavorful cast of supporting ingredients. Enjoy!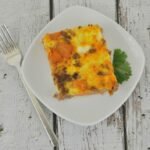 Print Recipe
Paleo Overnight Breakfast Casserole
Ingredients
1

lb

Nitrate Free Sausage

1

tsp

Garlic Powder

1/2

tsp

Thyme

1/2

tsp

Sage

1/4

tsp

Crushed Red Pepper

1

Onion, diced

4

Sweet Potatoes, peeled and cubed

1

Green Bell Pepper, diced

9

Eggs

1/2

cup

Coconut Milk

Salt and Pepper

for taste
Instructions
Cook sausage in a large pan over medium heat, stirring to crumble. Add spices, onion, green pepper, and sweet potatoes. Cook, stirring occasionally, for 5-7 minutes. Remove from heat and cool slightly.

Spray a 9×13 baking dish with nonstick cooking spray. Spread sweet potato and sausage mixture in the bottom.

Whisk together the eggs and coconut milk. Pour over sausage mixture. Cover and refrigerate overnight.

In the morning, remove from the refrigerator and let sit on the counter while oven preheats to 350 degrees. Bake, covered with foil, for 35 minutes. Remove foil and bake for an additional 10 minutes.
Notes
You can also bake this immediately! Just reduce the overall cooking time to 35 minutes (25 with foil and 10 without). Original Recipe: https://www.mysuburbankitchen.com/paleo-overnight-breakfast-casserole/
So there you have it! A delicious Paleo Overnight Breakfast Casserole that will be perfect for Christmas morning. I hope you and your family enjoy this yummy breakfast treat. Let me know what you think down below; I love hearing from you guys!
See my last recipe on Vegan Sun Butter Cookies:

Find us on: