Hyperbaric Oxygen Therapy (HBOT) has burst onto the scene as a real champ in the medical world, tackling all sorts of conditions like a superhero on a mission – from patching up wounds to giving neurological issues a run for their money. If you have been researching HBOT you probably have discovered that there are 2 types, hard and soft shell chambers. Here are the differences to help you figure out what is best for your optimal healing!
Understanding the Difference: Hard Chambers vs. Soft Chambers
Hard chambers are crafted from steel or acrylic materials. They're all about handling high pressures and creating that perfectly controlled space so HBOT can work its magic.
Conversely, soft chambers are constructed using durable fabrics, and they feature a zipper closure. Prior to inflation, these chambers resemble empty bags, similar to balloons.
Advantages of a Hard Hyperbaric Oxygen Chamber
Backed by Science.
Hard chambers are the only type of HBOT chamber that has over 30,000 clinical studies proving clinical effectiveness.
Only hard chambers are FDA approved for human occupancy and for treating many health conditions.
Higher Pressures
Hard chambers are capable of pressures up to 30 psi (3ATA), while soft chambers can only reach 4.4 psi (1.3ATA). This is a huge difference in getting oxygen to where its needed in the body.
Because bacterial infections (Lyme, wounds) need the higher pressures only hard chambers will work for curing these kinds of infections.
Medical Grade Standards
Thoroughly cleaning and sanitizing hard shell hyperbaric chambers is possible; however, achieving the same level of cleanliness with soft chambers is impossible.
Consistent Pressurization
The rigid structure of hard chambers ensures consistent pressurization throughout the treatment session. This consistency is essential for achieving optimal therapeutic results, as any variations in pressure could affect treatment outcomes.
Better Monitoring and Access
Hard chambers are much easier to get in and out of as well as see into and out of. These are import factors when helping patients have a good HBOT experience.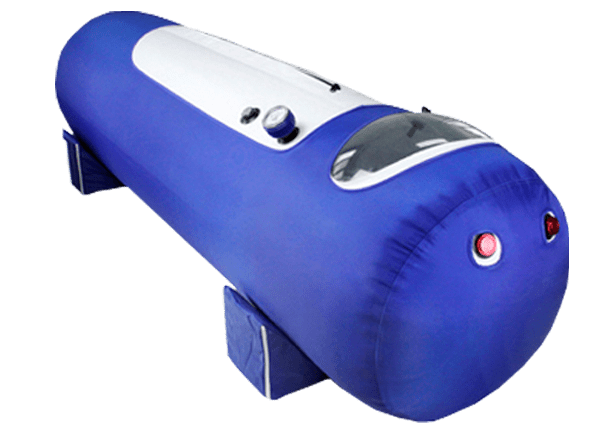 Limitations of Soft Hyperbaric Chambers
Less Oxygen
The soft shell zip-up chambers provide about 24-30% oxygen compared to the hard chamber where the patient is breathing pure oxygen. You would need 20 to 40 treatments with a soft shell to match the power of one session in our hard shell chamber.
Limited Pressure Range
Soft chambers have a lower pressure capacity compared to hard chambers. This restricts their application to conditions that do not require higher pressures for effective treatment. Researchers have conducted minimal research using this low pressure.
Pressure Fluctuations, Less Precision
Soft chambers can experience pressure fluctuations during treatment due to their design. These fluctuations can impact the consistency and effectiveness of the therapy.
Reduced Safety Measures
While soft chambers make efforts to ensure safety, they might not meet the stringent safety standards of hard chambers utilized in medical facilities.
Conclusion
Given the differences it should come as no surprise that we chose hard chambers for our patients as they give optimal healing.
You Can Get Started Today
If you're ready to embark on your journey towards healing and well-being through Hyperbaric Oxygen Therapy, taking the first step is easier than you might think. Simply fill out our intake form to provide us with essential information about your medical history and treatment goals. Our dedicated team is here to guide you through the process and answer any questions you may have.
Benefiting from two cutting-edge hard hyperbaric chambers and the added advantages of Photobiomodulation (PBM), our commitment lies in providing you with the utmost standard of care. Don't wait any longer – take charge of your health and schedule your treatment sessions today. Your path to recovery begins here.
We're located in Phoenix, Arizona.
Frequently Asked Questions:
How long do the effects of hyperbaric oxygen therapy last?

The duration of the effects of Hyperbaric Oxygen Therapy (HBOT) can vary based on the individual's condition and the specific goals of the therapy. In some cases, the effects of HBOT may be immediate and short-lived, while in other cases, multiple sessions of HBOT may be required to achieve longer-lasting benefits.

How often should you do hyperbaric oxygen therapy?

The frequency of Hyperbaric Oxygen Therapy (HBOT) sessions can vary depending on the individual's condition, treatment goals, and the recommendation of a healthcare professional. Typically, HBOT is administered as a series of sessions. It ranges from a few to several sessions over a specified period.

How quickly does hyperbaric oxygen therapy work?

The speed at which Hyperbaric Oxygen Therapy (HBOT) works can vary depending on the individual's condition and the specific goals of the therapy. Some individuals may experience immediate improvements or relief of symptoms after a few sessions of HBOT, while others may require multiple sessions over a longer period of time to see noticeable effects. The timeframe for experiencing the benefits of HBOT can be different for each person, and it is best to consult with a healthcare professional experienced in HBOT to get a better understanding of the expected timeline.

Is hyperbaric oxygen therapy FDA approved?

Yes, Hyperbaric Oxygen Therapy (HBOT) is approved by the U.S. Food and Drug Administration (FDA) for various medical conditions. The FDA has approved HBOT for specific indications such as decompression sickness, gas embolism, carbon monoxide poisoning, and certain non-healing wounds, among others. However, the FDA also acknowledges that HBOT may be used off-label for other conditions not specifically approved.
Check Out Our Most Popular Posts: