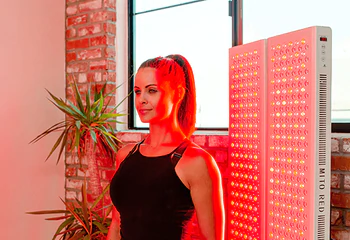 In 1903, Niels Finsen received the Nobel Prize for his work in using Red Light to treat Small Pox (virus) and Lupus (auto immune disease). That was over 100 years ago! Discoveries of the benefits of Red Light Therapy (RLT) have only grown since then. Now we know that RLT can also be used to treat Eczema, Diabetes, Depression, Fibromyalgia, Thyroid Imbalances like Hashimoto's, and even Cancer. WOW! It is unbelievable to me how this amazing therapy has flown under the radar for so long and is such an easy way to boost the immune system.
How Does It Work?
When you stand in between our Red Light panels, there are several things happening. First, RLT increases your mitochondrial production and blood circulation. Then it also reduces your inflammation. With regular use of RLT, these all help your body to work better, improve your immune system and make you feel better.
Mitochondrial Production – What's That?
The mitochondria is the powerhouse of the cell–you may remember that from science class! When this powerhouse is being stimulated by the red light, your cells are making more energy for your body to work with. With that added energy, your body can increase healing through reducing inflammation and accelerating cell growth.
Blood Circulation – How Does That Help?
Better circulation helps your body bring the nutrients and oxygen to the places that need it. This accelerates healing processes throughout your entire body. From transporting white blood cells more efficiently, to giving the cells more energy to work with, RLT does an amazing job preventing your body from falling prey to every illness that comes your way. And if you do get sick…use your at-home device! It will help you feel better faster.
Reduced Inflammation – Why is that Important?
Chronic inflammation causes the body a world of hurt–literally. For example, headaches usually stem from inflammation in the areas around the brain. Chronic pain is often the result of chronic inflammation, so when patients use RLT it is not surprising that their pain often goes away within the first month! Continued use helps the body to heal from the damage caused by high inflammation. Without high inflammation, the body's immune system has a better chance at targeting real issues like infections.
Other potential medical uses for RLT being investigated include:
To reduce cancer chemotherapy side effects, including oral mucositis.
To relieve pain and inflammation associated with ankle tendonitis, rheumatoid arthritis, carpal tunnel syndrome and osteoarthritis of the knee.
To prevent cold sores from herpes simplex virus from recurring.
When used regularly, Red Light can promote general wellness and boost the immune system – with side benefits like better sleep, improved eye health, and wrinkle reduction. Note that when used correctly there are no negative side effects! To get these benefits, you will want to come 3 times a week for at least 2-3 months to get your body to its best baseline and start seeing big benefits.
Sign Me Up!
If you live close enough to come in person, we HIGHLY recommend doing so! We have TWO full size panels that will cover every inch of your body with this amazing healing light. Appointments are only 15 minutes and you can come in up to 3 times a week (recommended). Our UNLIMITED plan is the best price around! Call the office today at (602) 864-0304 for more information or to get started. Located in Phoenix, Arizona
Red Light Hours: Mondays, Wednesdays, Fridays from 7am-1pm and 3pm-6pm
If you do not live close enough to come in person, we also offer at-home portable devices that have the same strength as the ones in-office… Just Smaller! ORDER HERE and use code Dr.Kilcup5% to save money.
Read Some of Our Other Articles Below!