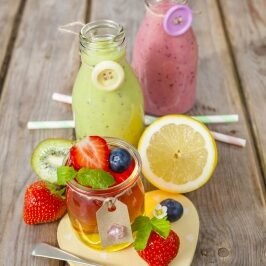 We are getting so close to summertime and the kids being out of school. Whether that is good news or bad news, this healthy kiwi sorbet will be a great way to cool down with a sweet treat. The recipe is also simple enough that kids can help out too! You can also add other frozen fruit, like strawberries, to the mix and create your own special sorbet creation. Another variation is to let the sorbet get a little melty and drink it like a kiwi milkshake! If you do, feel free to share on Facebook (and tag us!) or comment down below.
The Power of Kiwis
Did you know that kiwis are classified as berries? It's true! They were originally called the Chinese gooseberry and hailed from south China. Kiwis are now grown in many parts of the world. Like New Zealand, where they got the name we recognize today 'kiwi', after the native kiwi birds.
Kiwis are exceptionally high in vitamin C. A 3.5 oz kiwi provides over 80% of your DV for vitamin C. They also contain potassium, copper, vitamin K, folate, and vitamin E. Kiwis have low calories and fat, and are a good source of fiber. All of that makes them an amazing fruit that you will want to make sure you have enough of!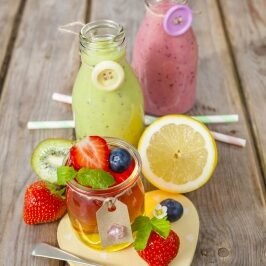 Print Recipe
Kiwi Sorbet
Ingredients
8

Kiwis

peeled

4

tbsp

Honey

1

tbsp

Lime Juice

can be lemon juice

4

tbsp

Coconut Milk
Instructions
Peel and slice kiwis and place flat on a tray. Freeze for 1 hour.

Once frozen, add to a food processor with remaining ingredients. Honey, lime juice, and coconut milk. Blend until smooth and creamy.

Serve immediately, or pour into a shallow container and freeze for later!

Top with additional sliced fruit if desired.
Notes
Original Recipe: https://www.superhealthykids.com/kiwi-sorbet/
I hope you like this refreshing and tangy healthy kiwi sorbet recipe! It is so easy and versatile, making it an instant favorite of mine. Let me know what you think!
Find Us On:
If you need help with:
Pain Relief: Arthritis, Fibromyalgia, Post workout
Skin/Hair: Wrinkles, Acne, Eczema, Psoriasis, Stretch marks
Eye Health: Macular degeneration, Glaucoma, age related decline, Dry Eye
Cognitive Function: Alzheimer's, Parkinson's, Dementia, Stroke, TBI
Thyroid: Male and Female Hormones
Then you you should try out new Red Light Therapy! It can help these problems, and a lot more. Read THIS for More Information!