We made it to 2022! What a blessing; a new year is such a great time to start fresh and get to your goals. It always gives me a sense of peace because it means that even if last year was not the best, now I get the chance to try again. What are your resolutions this year? If you are like me then it is probably something health related! I want to watch what I eat better this year, including not eating a lot of gluten, dairy, and sugar. This Cranberry White Chocolate Granola is a great dish for that because it is gluten-free and can be made sugar and dairy-free. It also has some in-season berries – cranberries!
Why does In-Season Matter?
As mentioned above, cranberries are in-season! This is important because nutrient retention is optimized if fruits and vegetables are gently handled and exposed to proper sunlight. When fruits and veggies are picked before their season, they get stored in boxes and sprayed with hormones to artifically ripen. If not given the chance to ripen properly, produce can not accumulate the nutrients we want to consume.
That's why eating in-season produce is so important! If you haven't already, I would look to see what else is in season throughout the year where you are. The nutrients you are looking for will not be there if the plants have not been handled properly. Click here to find the USDA's seasonal produce guide!
For the most part, this is a really healthy recipe. However, if you want to switch the white cocolate for a sugar-free dark chocolate, that will help it be even healthier. This recipe can also be enjoyed with milk or just on its own. I hope you enjoy!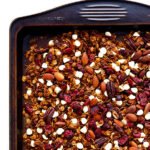 Print Recipe
Cranberry White Chocolate Granola
This Cranberry White Chocolate Granola recipe is easy to make, full of protein, and full of delicious sweet flavors!
Ingredients
2

cups

Old-Fashioned Oats

(use certified gluten-free oats if making this GF)

1/2

cup

Raw Whole Almonds

1/2

cup

Raw Pecan Halves

1/2

cup

Shredded or Shaved Coconut

1/4

cup

Maple Syrup

1/4

cup

Melted Coconut Oil

1/2

tsp

Gound Cinnamon

1/4

tsp

Vanilla Extract

1/2

tsp

Salt

1 1/2

cups

Dried Cranberries

1

cup

White Cocolate Chips

(use certified gluten-free chocolate chips if making this GF)
Instructions
Heat oven to 350°F.  Spray a large baking sheet with cooking spray, or line it with parchment paper.  Set aside.

Combine the oats, almonds, pecans, and coconut in a large mixing bowl.  In a separate bowl, whisk together the maple syrup, melted coconut oil, cinnamon, vanilla extract, and salt together until smooth.  Pour the maple syrup mixture over the oats mixture, and toss until everything is evenly mixed.

Spread the granola mixture out evenly on a greased baking sheet and bake for 25 minutes, pulling the mixture out at the halfway point and giving it a good stir before the final round of baking.

Remove and let cool until the granola reaches room temperature.  Stir in the dried cranberries and white chocolate chips and toss to combine.

Serve immediately, or store in a sealed container for up to 2 weeks.
Notes
Original Recipe: https://www.gimmesomeoven.com/cranberry-white-chocolate-granola/
And there you have it! Cranberry White Chocolate Granola perfect for your breakfasts and on the go snacks. Let me know in the comments below what you think; I love hearing from you guys!
See last week's recipe on a Green Detox Keto Smoothie:
Find Us On: