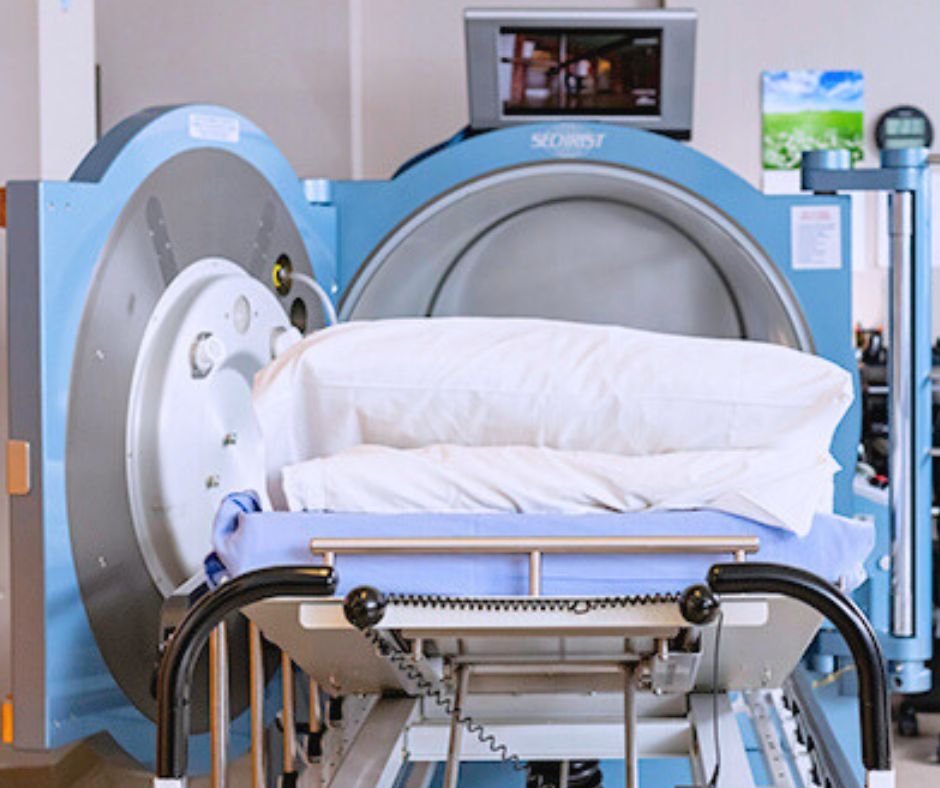 Living with chronic wounds, especially those associated with diabetes or post-surgical complications, can be challenging and hinder the healing process. However, medical advancements have introduced a remarkable treatment called hyperbaric oxygen therapy (HBOT). Hyperbaric oxygen therapy for wound care has shown immense promise in promoting healing and improving outcomes for individuals with diabetic wounds and post-surgical wounds. Let's explore the healing potential of hyperbaric therapy for wounds and how it can make a significant difference.
Diabetic Wounds and Hyperbaric Therapy
Diabetic wounds, often characterized by slow healing, poor circulation, and increased risk of infection. In addition to this, these wounds can lead to serious complications and even limb amputation if left untreated. Hyperbaric oxygen therapy for wound care has emerged as a powerful ally in the management of diabetic wounds by creating an environment that promotes healing.
Research by Löndahl et al. (2010) and Abidia et al. (2003), has shown that HBOT can facilitate the healing of chronic foot ulcers in patients with diabetes. It was shown that this heightened oxygenation enhanced the body's ability to fight infection. It also stimulated the growth of new blood vessels (angiogenesis) and promoted the formation of healthy tissue. The combination of improved oxygenation, increased blood flow, and enhanced tissue regeneration accelerates the healing process. Finally, and most importantly, this reduces the risk of complications, and may ultimately prevent amputations.
Hyperbaric Therapy for Surgical Wound Healing
Surgical wounds, although performed under sterile conditions, can still be susceptible to complications and delayed healing. Hyperbaric therapy offers a valuable adjunctive treatment option to optimize the healing of surgical wounds. It can help reduce the risk of infection, and enhance overall recovery.
The study by Zamboni and Roth (2004) highlights the positive impact of HBOT on wounds, emphasizing its ability to improve wound healing. Hyperbaric oxygen therapy for wound care promotes tissue regeneration, fights off potential infections, and aids in the development of new blood vessels. Lastly, these combined effects lead to faster wound closure, enhanced tissue integrity, and reduced scar formation. Ultimately it facilitates a smoother and more successful surgical recovery.
Clinical Evidence and Success Stories | Hyperbaric oxygen therapy for wound care
Numerous studies have demonstrated the effectiveness of hyperbaric therapy in diabetic wound healing and surgical wound management. HBOT significantly reduces the need for amputation in individuals with diabetic foot ulcers, improves wound closure rates, and accelerates the healing process.
Also, success stories of individuals who have undergone hyperbaric therapy for diabetic and surgical wounds are abundant. Many patients have experienced remarkable healing, avoided major complications, and regained their mobility and quality of life. Without a doubt, the ability of hyperbaric therapy to transform non-healing wounds into healed, healthy tissue showcases its potential as a game-changing treatment option.
Hyperbaric Therapy for Wounds
In conclusion, hyperbaric therapy stands as a beacon of hope for individuals struggling with diabetic wounds and surgical healing. By harnessing the power of increased oxygen levels, this non-invasive treatment promotes wound healing. HBOT has become a critical tool in the fight against chronic wounds and the optimization of post-surgical outcomes. Embracing this remarkable therapy can provide renewed hope and a brighter future, free from the burdens of non-healing wounds.
Accelerate Your Healing: HBOT and Photobiomodulation Together
HBOT and Photobiomodulation (PBM) are two distinct therapeutic approaches that can synergistically work together to accelerate wound healing. HBOT involves delivering high concentrations of oxygen under increased atmospheric pressure. PBM utilizes specific wavelengths of light to stimulate cellular activity. When combined, these modalities can enhance the healing process by targeting different aspects of tissue repair.
The benefits of hyperbaric oxygen therapy for wounds has been explored above, but, when used with PBM, the healing power can be taken even a step further. PBM utilizes light energy to stimulate cellular activity and promote healing at a molecular level. The specific wavelengths of light penetrate deep into the tissues, triggering photophysical and photochemical reactions that enhance cellular metabolism, reduce inflammation, and promote the production of collagen and other essential proteins for wound repair.
By combining the benefits of HBOT and PBMT, patients can receive a comprehensive and targeted approach to wound healing. Oxygen-rich environment created by HBOT optimizes the conditions for cellular function. While PBM harnesses the power of light to stimulate cellular activity and promote tissue repair. Together, these modalities have the potential to improve healing outcomes, reduce healing time, and enhance the quality of life.
Hyperbaric Oxygen Therapy near Me
Our office is located on 27th and Glendale Ave in Phoenix, Arizona. As of September 2023, we are equipped with multiple hyperbaric chambers, expert staff, and, additionally, Photobiomodulation (also known as Red Light Therapy) panels to fully help you achieve your optimal wellness.
Frequently Asked Questions:
How long do the effects of hyperbaric oxygen therapy last?

The duration of the effects of Hyperbaric Oxygen Therapy (HBOT) can vary based on the individual's condition and the specific goals of the therapy. In some cases, the effects of HBOT may be immediate and short-lived, while in other cases, multiple sessions of HBOT may be required to achieve longer-lasting benefits.

How often should you do hyperbaric oxygen therapy?

The frequency of Hyperbaric Oxygen Therapy (HBOT) sessions can vary depending on the individual's condition, treatment goals, and the recommendation of a healthcare professional. Typically, HBOT is administered as a series of sessions. It ranges from a few to several sessions over a specified period.

How quickly does hyperbaric oxygen therapy work?

The speed at which Hyperbaric Oxygen Therapy (HBOT) works can vary depending on the individual's condition and the specific goals of the therapy. Some individuals may experience immediate improvements or relief of symptoms after a few sessions of HBOT, while others may require multiple sessions over a longer period of time to see noticeable effects. The timeframe for experiencing the benefits of HBOT can be different for each person, and it is best to consult with a healthcare professional experienced in HBOT to get a better understanding of the expected timeline.

Is hyperbaric oxygen therapy FDA approved?

Yes, Hyperbaric Oxygen Therapy (HBOT) is approved by the U.S. Food and Drug Administration (FDA) for various medical conditions. The FDA has approved HBOT for specific indications such as decompression sickness, gas embolism, carbon monoxide poisoning, and certain non-healing wounds, among others. However, the FDA also acknowledges that HBOT may be used off-label for other conditions not specifically approved.
Additional Studies: