Now Only Accepting Female Clients
As we enter the new year, I have decided to establish for my business a new policy that I've wanted to do from the very beginning. When I went to school for massage therapy, my original desire and intention was to have a female only clientele base, focusing on helping women and doing more prenatal massages. For the sake of experience and building my credentials, I didn't initiate that from the start. Now, with almost 8 years of practicing massage therapy, I have decided it's time to take that step. 
About Bethany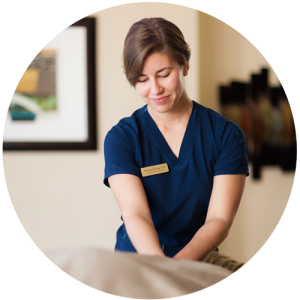 Bethany Kutz is a licensed and board certified massage therapist (License Number MT-21280), specializing in relaxation and pain management. She graduated in 2015 from Phoenix College's Therapeutic Massage Program, receiving her Associates in Applied Science and her certificate in therapeutic massage.
While she was in school, Dr. Kilcup (her dad) tutored her in his own massage methods that he has built after decades of caring for his own chiropractic patients, which has been a huge advantage to Bethany's career. Since graduating, she has continued her education in multiple other therapies through Phoenix College, Southwest Institute of Healing Arts, and the American Massage Therapy Association.
Bethany's goal for each client is to match the right massage techniques to their specific needs. Before the session begins, she makes sure that she understands each client's expectations and occasionally checks in during the massage to make sure they are comfortable. A client may have different needs from visit to visit, and Bethany is more than happy to adjust each appointment type to help them best.
Chiropractic care and massage therapy go hand in hand, and clients are encouraged to receive both to maximize the quality of their treatments. Of course this isn't required, but when these therapies are used together, progress is typically made even faster.
What to Expect:
Please arrive at least 15 minutes before your first visit to guarantee that you get the full time you scheduled for.
Before your first initial appointment, you will be asked to fill out a simple intake form online that will help Bethany understand what you would like from your session. Once it's filled out, she will look it over and discuss any questions she may have, and determine what type of treatment will most benefit you. Depending on your needs, this takes around 5-10 minutes.
Once the massage has concluded, you will be offered a cold or room temperature water bottle, as it is extremely important to stay hydrated after a massage. You may also be given instructions for continued home care such as stretching or postural adjustments, and a recommendation for when it would be best to come back.
How long of a massage do I need?
A typical massage will last between 60 and 90 minutes. If you have specific needs and don't need a full hour massage session to help fix your problem, 15-30 minutes is recommended. For example, some clients come in for 30 minutes if they are only dealing with neck and/or upper back pain, whereas clients who want to focus on relaxation benefit most from a 60-90 minute full body massage.
Services Offered
Bethany has received certificates in and offers the following services:
Therapeutic Massage
Swedish Massage
Deep Tissue Massage
Lymphatic Massage
Prenatal Massage
Sports Massage
Myofascial Release Therapy
Trigger Point Therapy
Cupping Therapy
Stretching
Our Pricing
15 Minute Massage – $20
30 Minute Massage – $30
45 Minute Massage – $60
60 Minute Massage – $80
75 Minute Massage – $100
90 Minute Massage – $120
120 Minute Massage – $160
This pricing does not include gratuity, 20% is recommended.
How can I schedule a massage?
It's easy! Just click here to select the date and time that you would like to schedule. If you're not sure what you need, just call the office. Our team would be more than happy to talk with you and help you figure out what's best.